How To Combat the Talent Gap in the US
The skill shortage in the US has been a long-standing issue for businesses across the continent, particularly in the technology industry. The prohibitively high cost of engineering and yet the low focus on IT education, infrastructure, and resources in the US has made it difficult for companies to find and hire skilled workers locally. However, the pandemic has left businesses with no other option than to hire beyond the borders.
Building offshore teams has become an increasingly popular solution for businesses looking to combat the talent gap. Offshore teams give organisations a strategic edge to help them accelerate past their competition. With the ability to tap into a global pool of talent, businesses can quickly scale their operations, innovate faster, and reduce costs, as outsourcing helps companies reduce costs by about 15% on average but up to 60%, while 57% of companies outsource their work to increase productivity and 64% of outsourced services are related to software application development. Reducing the cost aside, remote teams also bring new perspectives and diverse cultural experiences, which can lead to better problem-solving and decision-making.
However, managing offshore teams can present some challenges, including communication barriers, cultural differences, and time zone differences. Concerns of executives, at tech companies, regarding offshore teams are cultural integration, branded local presence, operational integration and executive resistance as reported by The Scalers, Freeform Dynamics, and CIO Pulse Report, provides valuable insights for IT managers.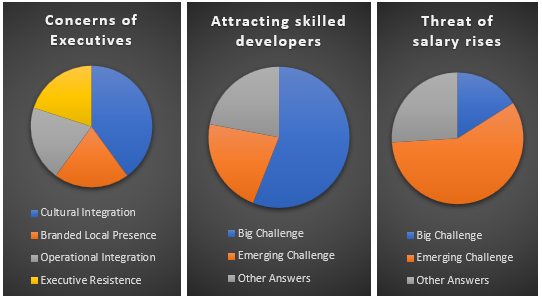 To mitigate these concerns, it is essential to change the traditional model of outsourcing where the engineering teams are hired to work on a project-to-project basis, even sometimes on multiple contracts, to a new model where the offshore teams are 100% are dedicated to the hiring companies which manage both the local and remote (offshore) teams under the same umbrealla of processes and culture while working through an intermediary entity to make sure people experience is locally managed without a lot of burden to the hiring company.
Along with it, it is also important to establish clear communication channels, set expectations, and implement effective project management tools. Regular check-ins and team-building activities can also help to build trust and create a sense of community among team members. Building resilient software teams in the face of skills shortages requires a new approach in how the companies utilize tools as well to produce quality software within strict deadlines. Agile methodologies, including continuous integration and delivery, can help teams to work efficiently and effectively. Investing in automation and testing tools can also help to reduce the risk of errors and improve software quality.
Looking at the alternatives, Turkey is a particularly attractive option for the US companies, as the cost is reasonable, the quality of engineering is high and cultural fit has not been of an issue based on past experiences of Silicon Valley companies that have existed and are still running operations in Turkey.
At Vega Networks, we provide a comprehensive hiring model that not only builds your teams but also runs your operations, allowing you to scale without limits. We understand that finding the right talent can be a challenge, which is why e handpick the most talented developers in Turkey from the 30,000 engineers who graduate every year. Our rigorous selection process ensures that only the top 1% of engineers make it onto your team.
Once your team is in place, we take care of the operational and administrative heavy lifting, freeing you to focus on what you do best – developing new products and services and growing your business. Our hands-on approach means that you can take your hands off, knowing that your team is in good hands.
As your business grows, we're on hand to help you scale up. With the support of our dedicated local people experience team, we ensure that your vision and culture are implemented throughout the team in Turkey, keeping your engineers engaged and motivated. With our hiring model, you can scale without limits, confident in the knowledge that you have access to the best talent and the support you need to succeed.
In conclusion, hiring beyond borders is a viable solution for businesses looking to overcome the US skill shortage and combat the talent gap. Building teams remotely in countries such as Turkey can provide businesses with access to high-quality talent at a reasonable cost. By mitigating the challenges associated with managing offshore teams and adopting new approaches to software development, businesses can build resilient software teams and gain a strategic edge over their competition.

Ready to expand your tech team in Turkey?

info@veganetworks.net

#offshoredevelopment #teamexpansion #trends #Turkey #USA